WHARFSIDE RESIDENCES UNVEILED
Fifteen years after commencing construction on Melbourne's premier waterfront living community, Yarra's Edge, Mirvac has announced the final stage in the prospering Wharf's Entrance.
Wharf's Entrance stage 1 will eventually see approximately 450 residents living across a 30 level tower comprising 228 apartments, as well as 11 luxury homes and seven home offices located at the western end of Mirvac's Yarra's Edge community.
---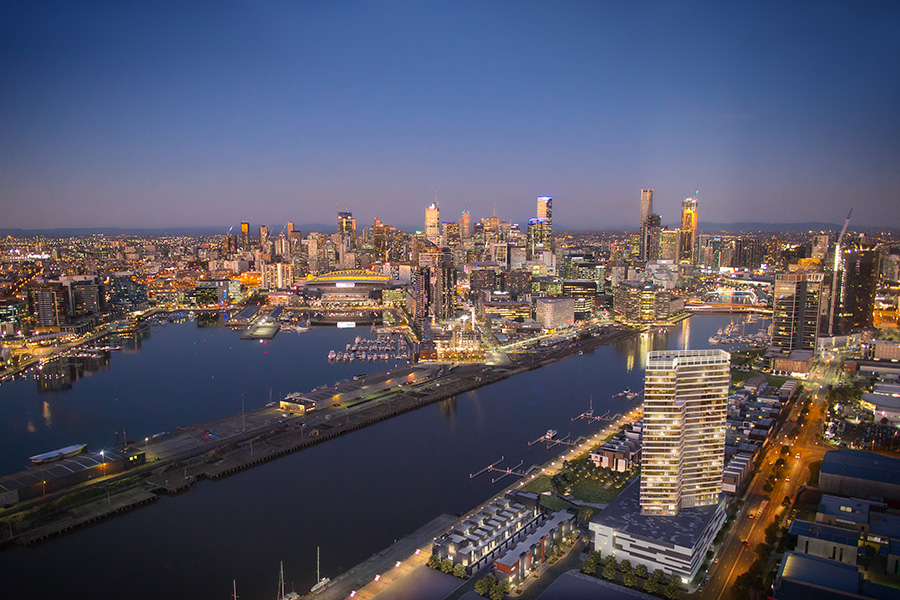 ---
W.E will draw people from the wider community to the area, activating the waterfront with a proposed health and wellbeing facility to feature a pool, expansive fitness centre and café, all housed under a striking inclined grass roof that sits adjacent to the 2,000 square metre green open space that is Wharf's Landing. Mirvac Group Executive Residential John Carfi said Wharf's Entrance would cap off a highly successful precinct that had experienced almost sell-out success across its eight existing towers.
"Wharf's Entrance is the final piece of the puzzle at Yarra's Edge and will cement the precinct as Melbourne's premier waterfront living community," he said. "What we have created over the past 15 years is a neighbourhood of 2500 people that values great design and embraces a lifestyle lived on the water, much like the world's greatest cities do. "We have not been surprised at the demand for aspirational homes and apartments located on the water at Yarra's Edge – where else in this city can you live just a few minutes walk from the CBD and enjoy the tranquillity of waterside living in a luxury location? "We expect that as Wharf's Entrance is the final offering in this community, demand for the final stage will be high."
---
The final stage is expected to attract a broad range of residents through a mix of homes and apartments that appeal to different needs and life stages. These residents will be able to commute by foot into the city and enjoy the benefits of a life lived by the waterside as well as one of the most iconic recreation facilities in the city. Standing approximately 100 metres high at the entrance to the final stage, the 30 level Forge tower will feature 5 unique artist studies, 10 one bedroom lofts, 56 one bedroom, 2 bedroom maisonettes, 111 two bedroom and 5 three bedroom terraces and 39 three bedroom apartments ranging in size from 50 square metres to 150 square metres. Sculpted out of steel and glass, the building reflects the gentle rise and ripples of the surrounding water through its gently curving façade that brings a strong sculptural statement to the precinct.
---
"Forge is the anchor of this wharfside precinct, which will be lighter and brighter than other stages of Yarra's Edge, providing a distinct new look that also fits with the existing architecture," said Mr Carfi. "It will change the demographic mix of this area, attracting urbanites who want to live in an artist's studio inspired apartment in Forge or in one of the building's other diverse housing options, which are priced to attract a combination of young professionals and empty nesters." Forge will neighbour a limited number of Wharfside Residences, all featuring four bedrooms across four expansive levels that front the water. Ranging in size from 332 to 493 square metres (including balcony), they are designed to offer the ultimate in luxury, featuring personal lifts and generous outdoor living areas.
Rounding out the mix of properties are flexible Cargo Homes, clever home offices split across three levels with three to four bedrooms that range in total size from 275 to 354 square metres (including balcony). "The unique configurations of these properties offer so many options to people, whatever their needs. With this final stage we have really pushed the envelope in terms of design and architecture and plan to finish Yarra's Edge on a high note," Mr Carfi said
"This is a precinct designed to be enjoyed by people and this final stage will energise the community." Mirvac design director Michael Wiener said the goal had been to create a precinct with a distinct design difference to what had come before, but that still played into the architecture of the Yarra's Edge precinct. "At the heart of the design was a desire to create a cool precinct that would foster a strong sense of community and draw people to this stunning area on the water's edge," he said.
"The materials and shapes bring in the wharfside elements of the area and also celebrate the biggest character in the story at Yarra's Edge – the water. "The architecture at Wharf's Entrance embraces organic forms, which is obvious in the sculptural and curving façade of Forge. The colour palette references the reflection of the water, with silver steel, metal and concrete complemented by wharfside elements in brickwork, zinc, copper and timber."
---
"Mirvac is very proud to have created one of the Australia's most successful new precincts and Melbourne's only waterfront living community," Mr Carfi said. "There are a huge mix of people living in this area and we think they will soon be joined by more and more visitors, who come to Yarra's Edge to stroll the promenade, take in the views of the water and city and enjoy the parks and recreation facilities on offer. "This is Melbourne's most exciting mini-suburb, bringing the lifestyle of waterfront living to our city for the first time."