UNVEILING THE FORGE LOBBY
The Forge lobby has been designed to set the character and reinforce the design concepts for the new precinct at Wharf's Entrance.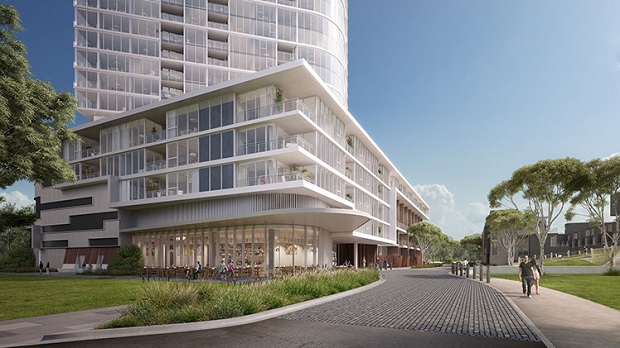 Artist's Impression
---
One of the overarching design principles of Wharf's Entrance is to introduce materiality that references the site's maritime heritage.
To this end materials such as copper, zinc, raw concrete, Corten steel and recycled Wharf timbers have been used on the facade of Forge and the terraces opposite. These materials have been brought into the lobby finishes to reinforce the architecture and character of the precinct. This connection between outside and inside creates a dialogue and a holistic architecture.
The lobby features a resident's lounge with a large central fireplace and comfortable seating. This lounge serves as a meeting area for Forge residents. It is prominently located at the entry to the building with views to the park and river. The planning and geometry of the lobby reinforce the desire line from the promenade into the park creating a glowing beacon in the evening welcoming people into their homes.
---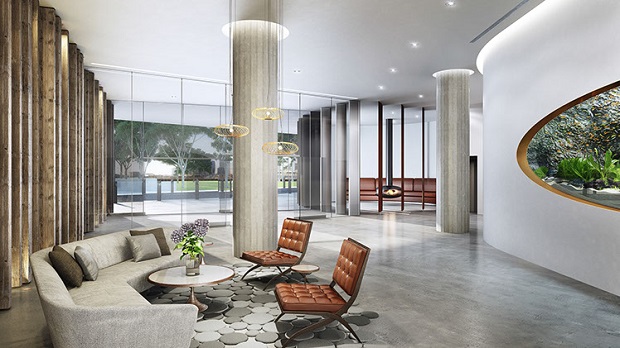 Artist's Impression
---
The lobby geometry also references the external forms with curved fluid white walls juxtaposing against the rawness of the off form concrete, copper and recycled wharf timbers.
Key to the lobby is a large aquarium featuring freshwater species focusing on the Yarra. This brings the river and nature into the building animating the space with aquatic life.
---
The elements combine to create a memorable coherent experience and identity which will connect residents and assist in fostering community within the development.
Immerse yourself in the Wharf's Entrance 360° journey which includes a tour of the impressive Forge wharfside chic lobby.